VITA NUOVA. NEW CHALLENGES FOR ART IN ITALY 1960-1975V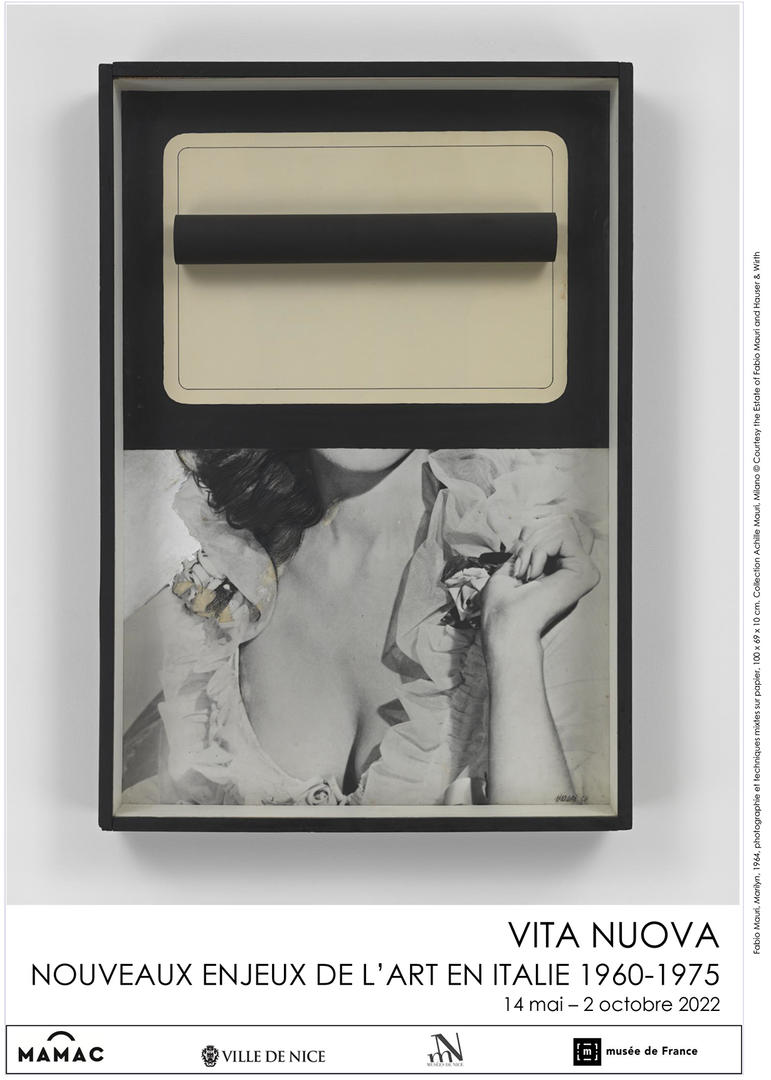 14.04.2022
VITA NUOVA. NEW CHALLENGES FOR ART IN ITALY 1960-1975
14 May 2022 - 02 October 2022
MAMAC, Nizza
curated by Valérie Da Costa
Opening view on Friday May 13 at 06.00 PM
For the first time in France since 1981, the MAMAC presents a major project dedicated to the Italian art scene between 1960 and 1975.
"Vita Nuova. New challenges for art in Italy. 1960-1975" aims to uncover the extraordinary vivacity of artistic creation in Italy between 1960 and 1975, whose diversity remains very little known in France – with the exception of the works of Arte Povera artists.
Curated by Valérie Da Costa, art historian, specialist in Italian art, this exhibition makes up for this historical gap, offering an unprecedented take on these fifteen years of creation from 1960, which corresponds to the first exhibitions of a new generation of artists (born between the years 1920 and 1940) active in Genoa, Florence, Milan, Rome and Turin – to 1975, a year marked by the tragic death of the writer, poet and director Pier Paolo Pasolini (1922-1975). The year 2022 marks the centenary of his birth.
The exhibition presents 56 artists, including many women artists, through a selection of 120 works and archival documents from Italian and French, public and private collections.
Artists: Carla Accardi, Vincenzo Agnetti, Franco Angeli, Giovanni Anselmo, Archizoom, Michelangelo Antonioni, Gianfranco Baruchello, Tomaso Binga, Irma Blank, Alighiero Boetti, Marisa Busanel, Pier Paolo Calzolari, Lisetta Carmi, Elisabetta Catalano, Mario Ceroli, Claudio Cintoli, Gino De Dominicis, Luciano Fabro, Federico Fellini, Giosetta Fioroni, Rosa Foschi, Piero Gilardi, Giorgio Griffa, Alberto Grifi, Laura Grisi, Gruppo Strum, Paolo Icaro, Jannis Kounellis, Ketty La Rocca, Maria Lai, Sergio Lombardo, Renato Mambor, Lucia Marcucci, Titina Maselli, Fabio Mauri, Eliseo Mattiacci, Marisa Merz, Mario Merz, Franco Mazzucchelli, Ugo Nespolo, Luigi Ontani, Giulio Paolini, Claudio Parmiggiani, Pino Pascali, Luca Maria Patella, Pier Paolo Pasolini, Giuseppe Penone, Marinella Pirelli, Michelangelo Pistoletto, Carol Rama, Mimmo Rotella, Mario Schifano, Ettore Spalletti, Gerry Schum, Cesare Tacchi, Gilberto Zorio.
"Vita Nuova. New challenges for art in Italy. 1960-1975" has been officially labelled as part of the French Presidency of the Council of the European Union's cultural calendar of events.